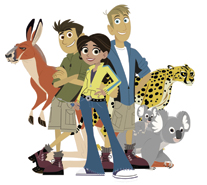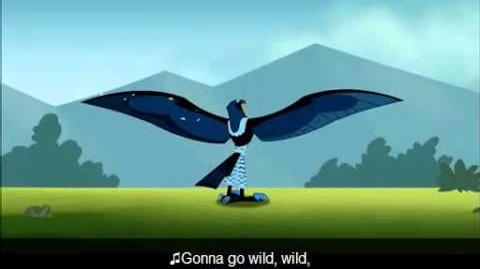 Welcome to the Wild Kratts Info Center Wiki
Edit
Welcome to Wild Kratts Info Center. Nice to meet new and old people around. Nice day in the wiki, hope you like it. Please follow the rules!
So far we have 16 pages since October 24th, 2012 and 0 active users!
No bad words are allowed here. This is a kid friendly wiki.
No spamming please!
Try to use good grammar.
Be kind to each other and don't fight.
Wild KrattsEdit
Wild Kratts is a animated children series created by Chris Kratt and Martin Kratt. It is produced by the Kratt Brothers Company and 9 Story Entertainment. It is presented by PBS in the United States, and TVOntario, Tele-Quebec, and Knowledge Network in Canada. The show's aim is to educate children aged 6-10 about biology, zoology, and ecology, and teaches kids small ways to make big impacts. The show is broadcast in the US, Canada, South America, Middle East, Israel, Spain, and Ireland.
| | |
| --- | --- |
| Genre | Adventure Comedy |
| Format | 40x22 Minutes |
| Created By | Martin Kratt and Chris Kratt |
| Written By | Eva Almos, Chris Kratt, Martin Kratt, Chris Roy |
| Directed By | Luc Chamberland ("Polar Bears Don't Dance"); Eva Almos, Chris Kratt, Martin Kratt (all others) |
| Presented By | Chris Kratt and Martin Kratt |
| Voices Of | Eva Almos (Donita Donata), Heather Bambrick (Koki), Zach Bennette (Zach Varmitech and Chef Gaston Gourmand), Cory Duran (Dabio), Athena Karkanis (Aviva Corcovado), Chris Kratt (as himself), Martin Kratt (as himself), Johnathen Malen (Jimmy Z) |
| Theme Music Composer | Pure West |
| Opening Theme | Wild Kratts Theme Song (Gonna Go Wild Kratts) |
| Ending Theme | Gonna Go Wild Kratts (instrumental) |
| Country of Origin | USA, Canada |
| Language | English |
| No. of Seasons/Episodes | 2/66 |
The basic plot of the series is usually to save the animals from various situations, be it villains, general human influence, or confusion on a baby animal's part. Most episodes focus on villains, but those that do not usually focus on soe real world problem, either directly (as seen in "Stuck On Sharks" where Gourmand captured a shark for making shark fin soup) or indirectly through allegory ("Build It Beaver" had the beaver's dam destroyed repeatedly through various means; an allegory for deforestation). Still some episodes aim to change the way a seen- creatures that are usually considered frightening, such as bats and crocodiles.
Along the way, viewers learn about the animals and their lives as the Kratt brothers and the Wild Kratts gang (consisting of the Kratts themselves, Aviva, Koki, and Jimmy) figure out the ways to either right wrongs or to get out of the strange (and always amusing) situations they are in. It was stated in an interview that the villains do not learn about the animals and this is why they are always unsucessful.
Some of their adventures have put them in grave danger or even brought them seconds away from death. In these episodes, it can be just the nature of the mission, or it can be the cause of a villain. Although in only one case ("Platypus Cafe") did the villain (Gaston Gourmand) actually intend to cause harm to one of the brothers. In other episodes, the villain had not thought it through (Zach in "Mystery of the Weird Looking Walrus"), or was not aware of the medical risks involved. They also occasionally enlist the help of the Wild Kratts Kids, children who help the Wild Kratts from their home however they can, whether it is moving animals or helping rebuild habitats.
Broadcast
Edit
Original Airing: January 3, 2011
Chronology
Edit
Preceeded By: Be The Creature
Related Shows: Kratt's Creatures, Zoboomafoo
Latest activity
Edit